Verride Palacio Santa Catarina
Lisbon
RoofTop Bar Only!!!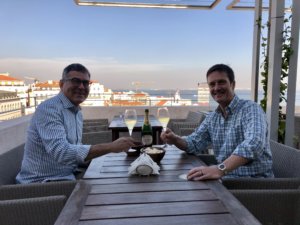 This was to be on TripAdvisor, but says the business does not exist – STRANGE!!!
First off, what a delight to find this little hotel in the middle of Lisbon. We must say it is rather grand and hope one day to maybe stay here. This review is NOT on the hotel itself, but the Rooftop Bar.
We thoroughly enjoyed our Apéro at the Rooftop Bar. It was a bit special, as it was my birthday. So we ordered Champagne and it was cold and satisfying. They also brought out some nuts and popcorn, which was really nice. Somehow, Carlos overheard it was my birthday, and he brought us some sweets in a martini glass with a candle…was just the nicest gesture.
A bar is a bar is a bar, but this has the most commanding view of Lisbon. Yes, the bar itself faces East (still rather nice), but climb the stairs to the flag and ALL of Lisbon is at your feet. We were really impressed.
We also descended the main staircase instead of taking the elevator, and came across a MOST beautful sitting room, just lovely. If the rooms are of equal quality, this should be a fantastic place to stay.